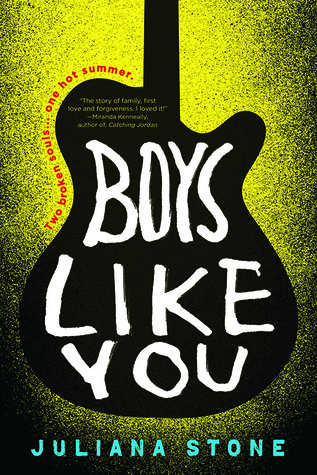 Boys Like You
Author: Juliana Stone
Published: May 6, 2014
Hardcover, 288 pages
5 Gold Stars
(summary from Goodreads)
One mistake. And everything changes.
For Monroe Blackwell, one small mistake has torn her family apart - leaving her empty and broken. There's a hole in her heart that nothing can fill. That no one can fill. And a summer in Louisiana with her Grandma isn't going to change that...
Nathan Everets knows heartache first-hand when a car accident leaves his best friend in a coma. And it's his fault. He should be the one lying in the hospital. The one who will never play guitar again. He doesn't deserve forgiveness, and a court-appointed job at the Blackwell B&B isn't going to change that...
Captivating and hopeful, this achingly poignant novel brings together two lost souls struggling with grief and guilt - looking for acceptance, so they can find forgiveness.
There are certain things I look for in Contemporary YA: great characters that pull you right in, something that these characters have to strive towards or need to make it through and such A+ romance. This book had everything I love about YA and I devoured it so quickly that I turned the last page and begged for more. This was the perfect summer read and I felt the Louisiana heat in the atmosphere and in the romance. I was given this book by a friend who told me it was fantastic YA and that i would not be disappointed and I wasn't in the least. It's a such small, unknown book, but I'm so glad I was given the chance to discover it.
Monroe and Nathan were two characters that needed each other more than they thought they would. Neither wanted to be where they were that summer. Monroe was sure being in Louisiana with her Grandma would not make her feel any better after the tragedy she experienced. And Nathan knew he didn't deserve to to walking around and having a job while his best friend lay in a coma and it's all his fault. Both were looking for a low key summer, but when Monroe opens the door of her Grandma's house and finds Nathan on the other side, neither could have imagined what a summer it would turn into. At first, neither really liked each other, which is my favourite time of romance. I love the bickering and the nonsense about never liking them until that minute the realize it's all a lie. It didn't take long for Monroe and Nathan to become friends, especially since her Grandma kept forcing them together. The tension between them was palpable and I couldn't wait for the moment where they finally admitted it to themselves and each other. The build was amazing and paced perfectly, with moments that made me swoon and others that made me cry.
The tragedy was rightfully placed and did not over power the emotional need throughout the book. Yes, it was awful what happened to both characters, but the important part was how they survived after the tragedies, not the tragedies themselves. I liked that we knew Nathan's tragedy right away and watched him struggle as he tried to live with it, but Monroe's was a bit a mystery and it helped pace the story as we tried to figure out what happened it her. It was brutal when revealed and Stone did it all perfectly. The greatest part of the whole thing was that they had each other to help them through this tough time and that's important, whether it's a boyfriend, a friend, or family, to have someone help you along. Monroe and her Grandma had a rocky relationship, but I love how supportive her Grandma was of her the entire time, like she knew eventually Monroe would come around.
The dual perspectives worked really well in this book. Each character had a unique voice and we learned a lot by getting into both their heads. It made the romantic tension was fantastic and I'm still thinking about how this book made me feel. Kudos, Juliana, I'm desperate for more.
"It had been so long since I'd let anyone touch me, let alone hold me like this. Like we were already a part of each other. 'Are you done waiting?' 'Yeah,' he said throatily. 'I am.'"